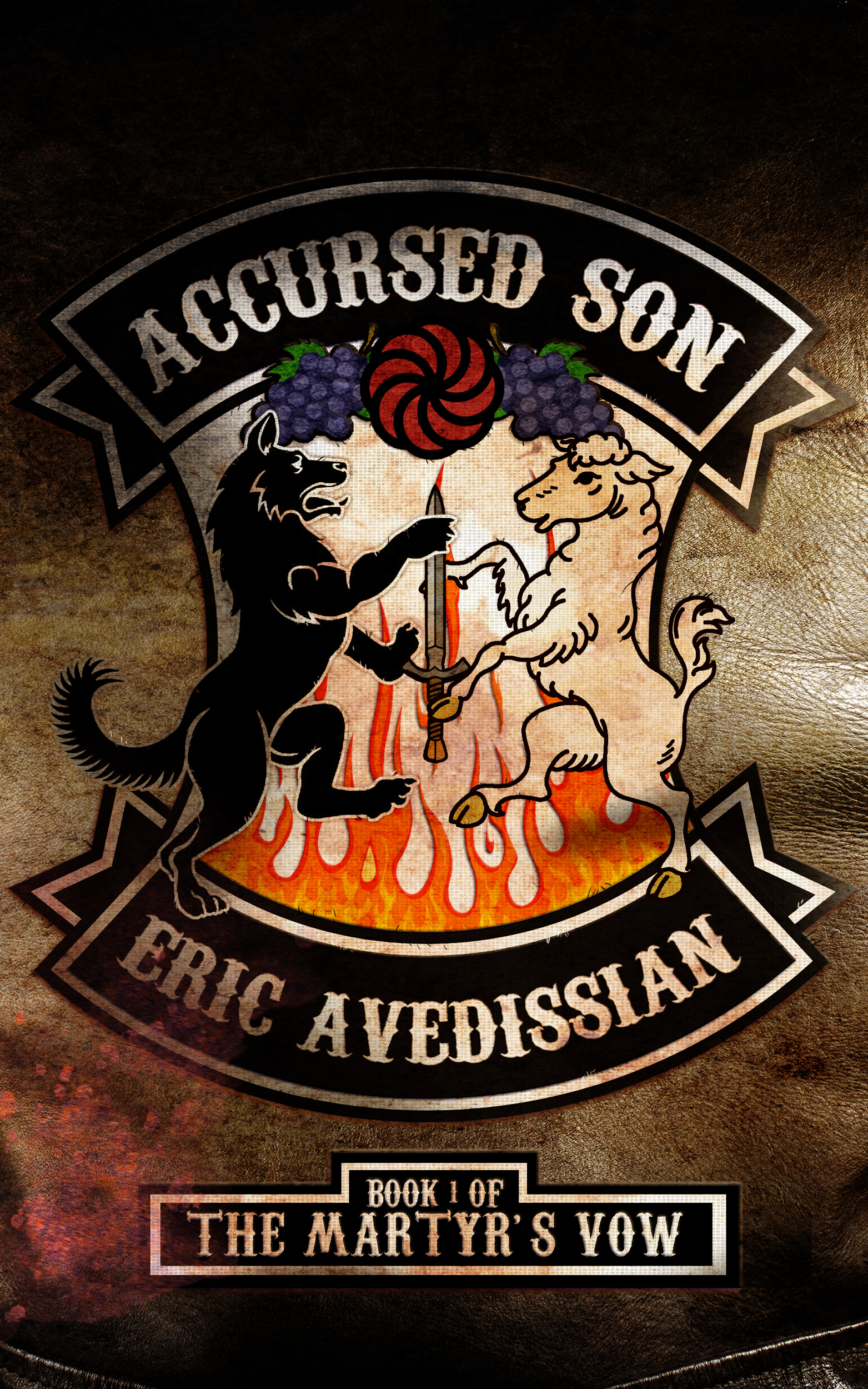 The Martyr's Vow Series, Book 1
Urban Fantasy / Horror
To Be Published: 12-12-2022
Publisher: Shadow Spark Publishing
Armand Tarkanian is trapped in the ultimate dead-end job: embalming decedents under his abusive uncle's watchful eye. Every day he goes through the motions, making death look beautiful while his life is anything but.
A car accident leaves him indebted to Berj, a mysterious man with rune-carved gold teeth and a penchant for worshipping old gods. Blackmailed and desperate, Armand feels more trapped than he was under his uncle's thumb. But the embalmer harbors his own dark secret, a bloodline curse that allows him to communicate with the dead.
When the spirits show him how they were murdered, Armand must choose between fealty to the sadistic and manipulative Berj, or joining the Legion of the Lamb, a monster-hunting biker gang with their own agenda. What began as a dangerous game between secret societies has led Armand on a frightening quest to save the only family he's ever known and a chance to get closer to the rebellious misfits who saved him.
Heartfelt and provocative, Accursed Son is a story featuring generational clashes, found families, and the rewards of tempting fate.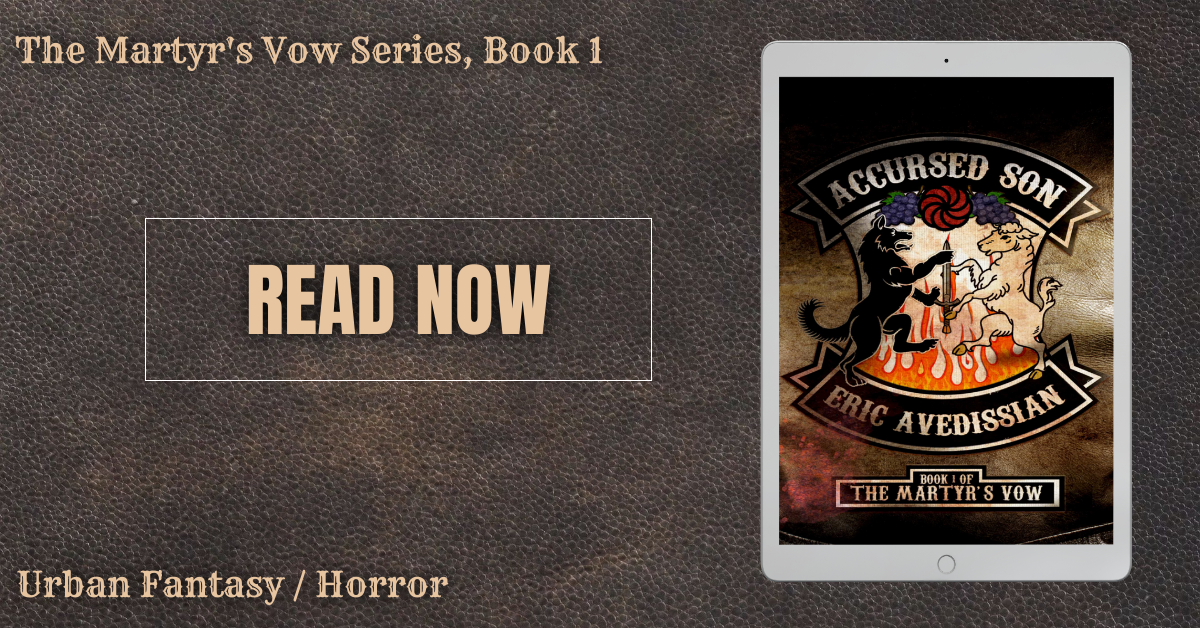 Interview with Eric Avedissian
How did you become involved with the subject or theme of your book?

Accursed Son started out as my Master's project. I was a grad student majoring in Writing Arts when I wrote what would later become this book.

The central theme of Accursed Son is reinventing yourself, leaving the familiar for the unknown, and is an exploration of family. What really is a family? They should be the people who have your back and who'll stick up for you when you need support. The concept of found family intrigues me, a group of unrelated people bound together only by their shared goals and admiration for each other.

Generational clashes also play a part in the story. The younger generation questioning the patriarchy and bigotry of their elders is characterized by the conflict the protagonist has with his father and uncle. Some of the dialogue is absolutely brutal, but I wanted to show that not all's well in the Tarkanian family.

So if you like a struggling hero at odds with his culture, a loving found family, and speculative fantasy elements mingled with horror, then you might enjoy Accursed Son.
What were your goals and intentions in this book, and how well do you feel you achieved them?

Growing up, I never saw anyone with Armenian heritage in speculative fiction. What I'm trying to do with Accursed Son, and more broadly The Martyr's Vow series, is to change that.

There have been Armenian protagonists in literature before; Rabo Karabekian in Vonnegut's Bluebeard and John Yossarian in Heller's Catch-22, but none in fantasy.

Representation matters, and relatable Armenian characters exploring and questioning their ethnicity's practices and family is almost unheard of. Combatting negative stereotypes by creating a complex hero like Armand Tarkanian was one of my other goals with this series. Hollywood unfairly portrays Armenian characters as drug dealers, gang members, or con-artists. They're the villains, not the heroes. There are rare exceptions where Armenian characters are courageous and competent; the Nazarian Brothers from the vampire hunter movie Day Shift is one example.

In Armand Tarkanian, I created an Armenian-American hero who fights the good fight and slays monsters (and stereotypes) along the way. Stagnation and indecision plague him, until he finally decides to leave his comfort zone and everything goes downhill from there.

I also wanted the folklore and mythology of pre-Christian Armenia in this book. Armenians fondly claim that theirs is the first Christian nation, dating back to 301 A.D. I wondered what pre-dated Christianity there, so I researched what ancient Armenians believed and found a rich mythology with a pantheon of deities, monsters, and folk heroes. By bringing this specific folklore into urban fantasy and horror, I broadened Armand's perception of his own cultural past and how potent magic reaches through time and impacts him personally.
What was the hardest part of writing this book?

Definitely writing the first chapter. I needed the beginning to do a few things: introduce the protagonist and show his situation. When we first meet Armand, he's hard at work embalming a corpse. He's obsessed with death because it's the only thing he knows. In a casual and almost methodical way, he introduces us to himself and the steps he follows preserving the dead. We see he's jaded and frustrated. We see how he loathes his overbearing uncle who owns the funeral home. We see how exhausted he is and how he desperately wants to escape. Conveying these emotions viscerally and making them relatable was a challenge.
What did you enjoy most about writing this book?

I enjoyed seeing Armand grow as a character. I liked putting him on a path, tormenting him, and watching him squirm. Maybe writers are secret sadists who revel in torturing their creations. Armand suffers, sure, but he also grows and develops as a person. His family tells him to be wary of outsiders. But halfway through the book he learns he must trust outsiders. He abandons the mind-numbing familiarity of his home and puts himself in uncomfortable situations. Along the way he finds himself, he finds love, and he finds a purpose. Shaping this character arc and watching him succeed was fun.

Writing the interplay and dialogue between the characters was also a blast. The scenes with Armand and his brother Roupen are some of my favorites. Scenes with the monster-hunting biker gang who Armand befriends were also funny and bittersweet.
Where there alternate endings you considered?

I always knew how this story would end. This doesn't mean there weren't significant changes between drafts. One character in the original manuscript was removed entirely because she didn't fit into the plot, and other scenes shifted around or were deleted. Another character wasn't fully explored, so I had to go back and complete that. The editorial changes, though time-consuming, ultimately improved the book.
Can you share some stories about people you met while researching this book?

There's the consulting mortician who answered my questions about embalming and the death care industry. I chatted with an Armenian filmmaker who gave me some perspective on folklore and culture. My former professors and beta readers provided feedback during those early drafts and helped me beautify all the ugly bits. That's really what writers do if you think about it: meet interesting people, do research, and beautify the ugly bits. Or if you write horror, uglify the beautiful bits.
What genre of books do you enjoy reading?

Speculative fiction tops the list. Fantasy stories with darkness and whimsy. Science fiction that says something about our humanity in this absurd universe. Noir and mysteries where protagonists are put through the wringer and survive. Pretty much anything weird and different where well-developed characters face obstacles and must step outside of themselves to see what they're really made of.
About the Author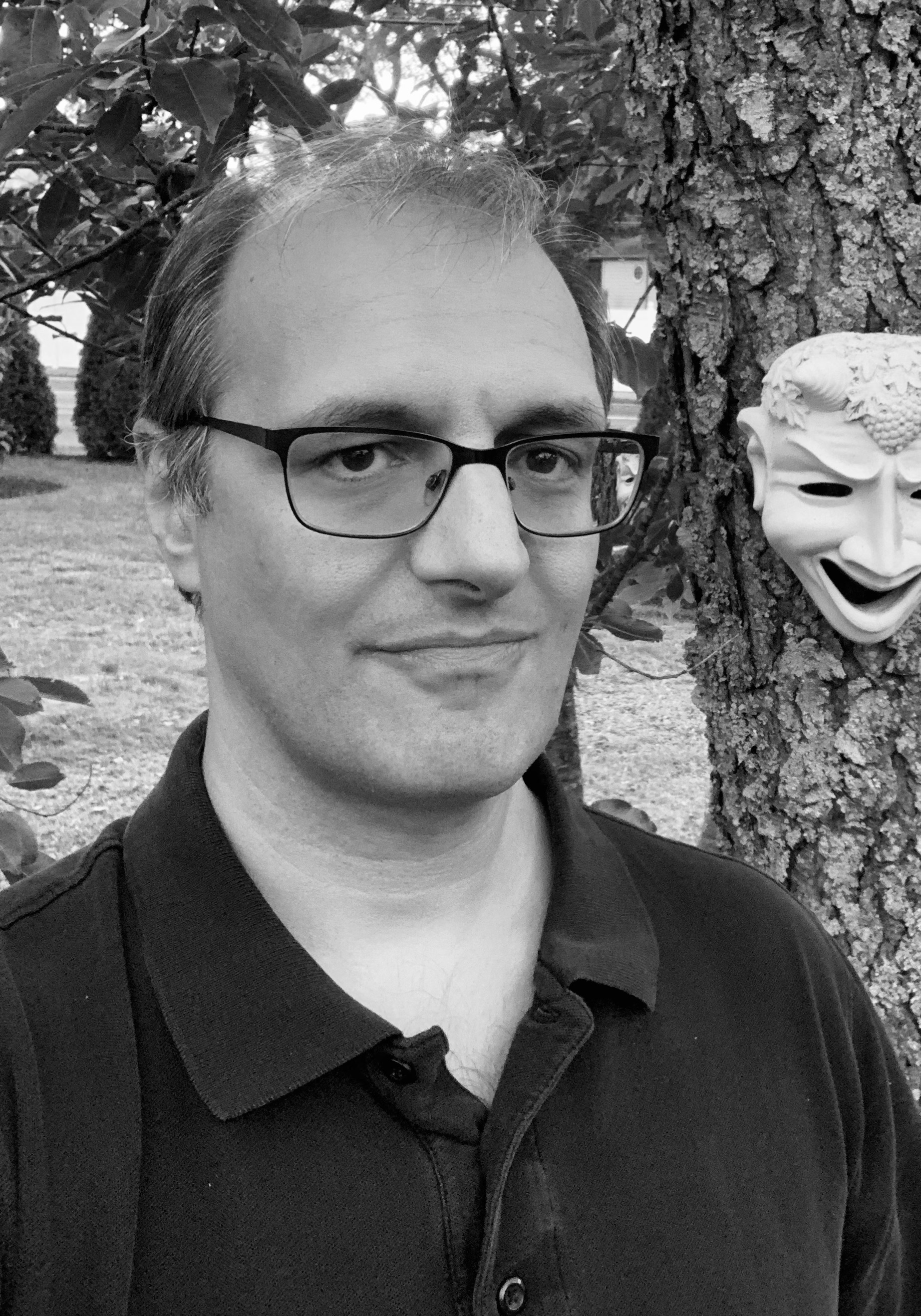 Eric Avedissian is an adjunct professor and speculative fiction author. He lives in New Jersey with his wife and a ridiculous number of books. When not chained to his writing desk, he hikes the Pinelands and wastes too much time on social media. Accursed Son is his first novel. Visit him online at www.ericavedissian.com and on Twitter: @angryreporter.
Contact Links
Purchase Link