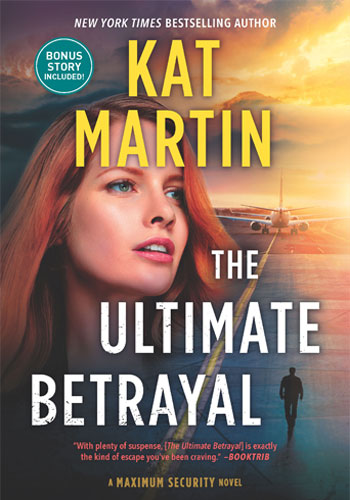 Maximum Security series book #3
Romantic Suspense, Action & Adventure
Date Published: paperback release date 12/29/20
Publisher: HQN
When investigative journalist Jessie Kegan's father, a colonel in the army, is accused of treason, Jessie is determined to clear his name. Reluctantly, she turns to former Special Ops soldier, Brandon Garrett, her late brother's best friend--a true heartbreaker, according to her brother.
With danger coming from every angle, time is running out and the game being played is deadly. Working together, Bran and Jessie must risk everything to solve the riddle and confront the threat--before it's too late.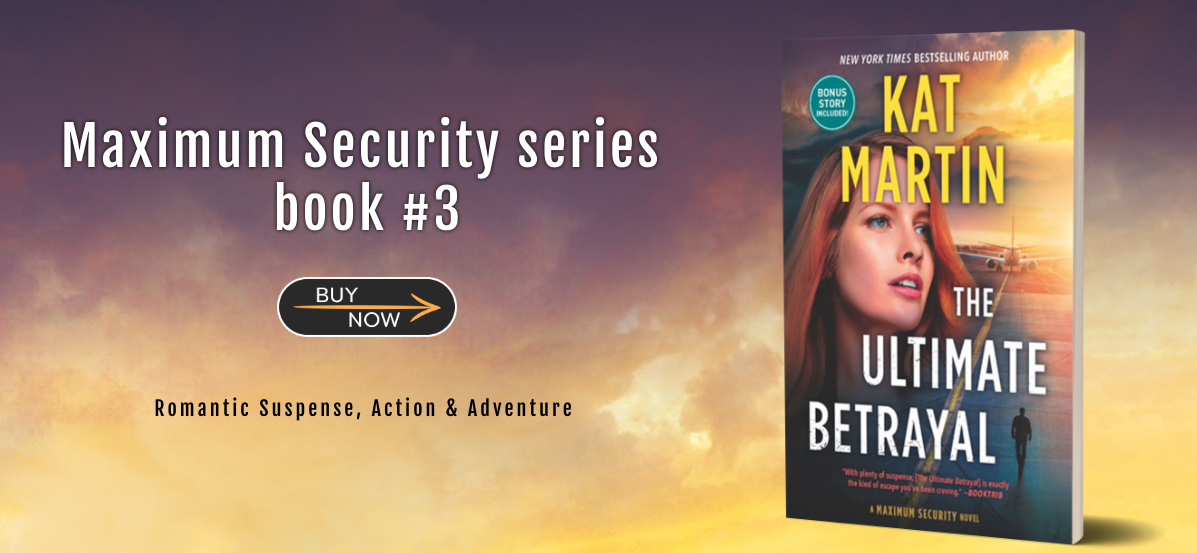 Interview with Kat Martin
For those interested in exploring the subject or theme of your book, where should they start?
My books are written to be entertaining. They are novels, not non-fiction or literary works of fiction. The purpose is to give the reader a few hours respite from the everyday difficulties of life.
How did you become involved with the subject or theme of your book?
I love to read. For me it is an escape. I want to feel good when I finish a novel. That is the kind of book I like to write.
What were your goals and intentions in this book, and how well do you feel you achieved them?
As I said, my goal is to entertain. To do that, I need a story that will keep the readers interest from page one to the end of the novel. It needs twists and turns, thing that will keep the reader glued to the pages. I think The Ultimate Betrayal meets my goal very well and I'm hoping readers agree.
Anything you would like to say to your readers and fans?
The Ultimate Betrayal is one of my personal favorites. Brandon Garrett is former military. The book is set around the theft of chemical weapons from an Army Chemical Depot, a real place in Colorado. It's a high-action Romantic adventure I'm hoping my readers will enjoy.
What did you enjoy most about writing this book?
At the time I am writing, it all just seems like very hard work. Once I am over the half-way mark, I can begin to enjoy interacting with the characters. Jessie and Brandon were two of my all-time favorites. They just seemed to fit perfectly together.
Can you tell us a little bit about your next books or what you have planned for the future?
THE PERFECT MURDER is my upcoming release, Reese Garrett's story. Reese is the middle Garrett brother, CEO of Garrett Resources, a huge oil and gas company in headquartered in Dallas. In the story, Reese fights his attraction to his executive assistant, McKenzie Haines, who is helping him with the purchase of an offshore drilling rig. It's a sexy, very high-action thriller, out in hardcover June 29th of next year.
How long have you been writing?
I've been writing for over 30 years.
Can you tell us a little bit about the characters in The Ultimate Betrayal?
Jessie Kegan is the daughter of a colonel, a young woman raised in a military family. Now an investigative journalist, she's strong and determined. Brandon Garrett, the hero of my story, was once a Special Forces soldier, which gives him vast confidence tinged with a hint of arrogance. I loved the idea of Bran interacting with his military past.
About the Author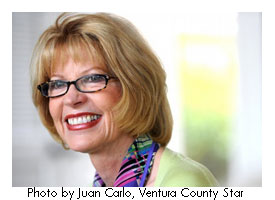 New York Times bestselling author Kat Martin is a graduate of the University of California at Santa Barbara where she majored in Anthropology and also studied History. Currently residing in Missoula, Montana with her Western-author husband, L. J. Martin, Kat has written sixty-five Historical and Contemporary Romantic Suspense novels. More than sixteen million copies of her books are in print and she has been published in twenty foreign countries. Kat is currently at work on her next Romantic Suspense.
Contact Links
Purchase Links