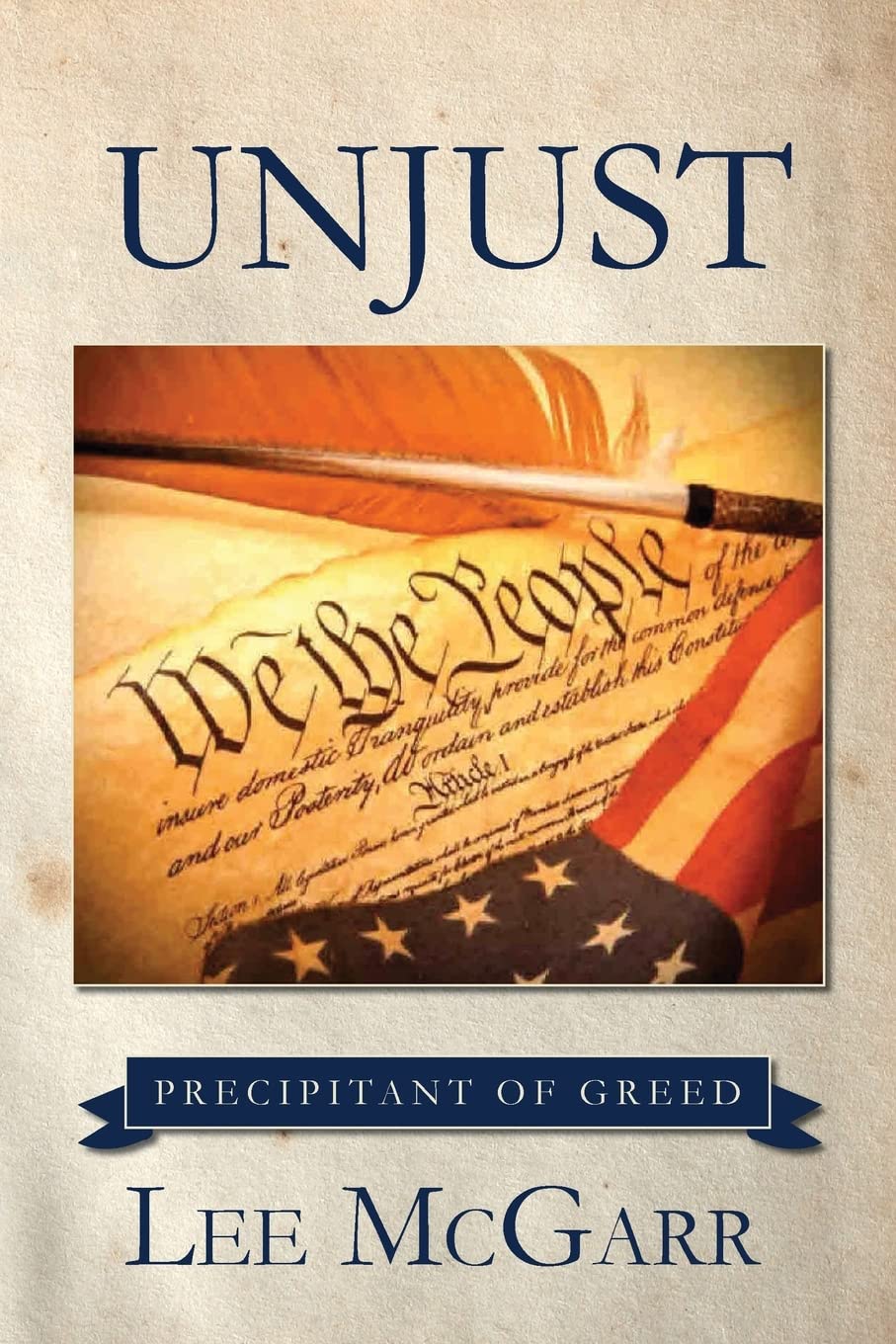 True Crime
Date Published: January 23, 2022
Publisher: Palmetto Publishing
It is time that "We the People" act and return our country to its righteous path.
Unjust is just one example of how injustice goes unchecked. Ultimately, there will be very few winners and an entire nation that loses.
Unjust starts with a case in Oklahoma and discusses how the case in Oklahoma is much larger than just Oklahoma and includes the entire United States.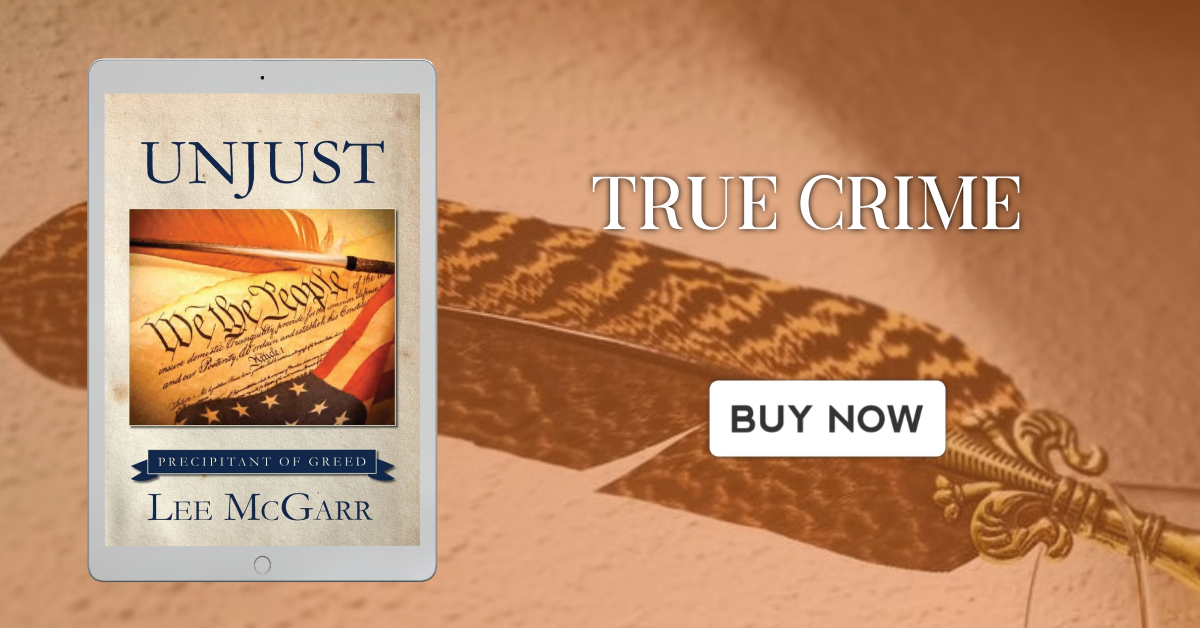 Interview with Lee McGarr
Introduce yourself and tell me about what it is that you do.
My name is Lee McGarr, I am a retired pilot, not retired by choice. In February of 2012, I testified in Washington D.C. against the FAA and to its criminality. Shortly after my testimony, the retribution against me went off the scale. Forced me to be interviewed by mental health doctors who all stated, "I was normal for a pilot". Next an aircraft with a crew of three, it was rigged to dispose of myself and the crew. Finally, in November of 2013, I was set for termination from my service with the government. Without any just cause, my flight physical (Class I Medical) was withheld and I was unable to work as I always had, as a pilot. Shortly after I turned 65 years old, my medical was returned. The age for commercial flying ends at age 65) I finally located a very honest attorney who filed an exemplary damage suit against the government and a Federal Judge in the Western District of Oklahoma dismissed the case on a "technicality" of which I was told was incorrect and not legal. In July of 2019, that very attorney passed away well before his time?
Tell me more about your journey as an author, including the writing processes?
In 2014, my attorney told me that due to the events listed above, I should write a book of all that has transpired. When Clifford told me such, I stated that I had no idea as to how to write a book and his response was that "It is your only approach at this time" and you are never too old to learn. My first book, "What Difference Does it Make" took me over three years to put together and was probably one of the most difficult mental issues that I had ever had to confront. It seemed that each time I sat down to write, my mind went on vacation. With great assistance from Clifford, it was finally completed in November of 2018. He then instructed me to focus on some of the many national events that I testified to and how it affected all American Citizens. I completed that book, "UNFIT, Consequences of Empowerment" in just under a year. Finally, in 2019, I met a man named Christopher Poindexter who had been living a parallel life to my own. Like me, all he had worked for and gained was falling apart. He provided me with voluminous emails and documents that I found involved myself as well. A man named Robert Stone (and many others) had been falsely imprisoned by a corrupt judge in Oklahoma and Chris had gotten him released. Mr. Stone turned all that had funneled through a server that Stone had set up prior to his false imprisonment. I realized that this was a very large and integral plan to steal the country blind and push this country to the edge. This book, "The Dividing of America" goes into the ties between corrupt Federal, State, and Local government employees, judges, and all levels of law enforcement. As Chris was told by his attorney (who is deeply involved with this mob) "There are too many of them, besides that, nobody will ever believe you."
Tell me about your Book
The latest book that I have written is titled "UNJUST, Precipitant of Greed". Having done the research, this book links the various government agency's, the banking world to the Tribal nations and how the money's are unlawfully funneled out of our country and so as to speak laundered even using University Foundations as a platform. From all within our government, murder for hire, elimination of our rights and false imprisonment of anyone including this author who attempts to speak the truth is used. This includes how this large group takes the RICO Act (Racketeer Influenced Corrupt Organization Act) and has used it as a blueprint for constructing this group to overthrow our own justice system, the basis for our democracy.
Book Genre
All of my books are, True Crime and Political but not in the sense of Political parties.
Appropriate age for readers
From young adults to senior citizens, all will find the answers as to what is going on.
Any message for our readers
Please look closely at the Preface of the book and compare it to what is currently happening here in our country at this time.
Any hashtags you would want me to use while promoting your book and Interview
(1)The Mob, (2) Follow the Money, (3) BancFirst, (4) The Golden Gin, (5) DSA Andrea
5 or more quotes/oneliners from your book
A. "Once you sell your soul, you cannot unsell your soul."
B. "Why would anyone intentionally list the wrong date of death, perhaps an alibi?"
C. "If someone offed you, they wouldn't know where to start looking."
D. "... and I'm Waiting on the Reaper."
E. "Keep the Faith!"
F. "There is no honor among thieves."
G. "... the Jury did not understand all the facts and he (Judge Woodward) would not allow this to continue."
H. "When you're warm and happy in a pile of S--t, Keep your mouth shut."
I. "If you want to commit a murder and not get caught, do it in Beckham County, Oklahoma."
J. "Stress, May even cause one to take up drinking!"
K. "UNJUST is just one example of how injustice goes unchecked. Ultimately there will be very few winners and an entire Nation that loses."
L. "You will only need the Second Amendment when they try to take it from you."
M. Do you really believe the fencing around the "Peoples House" in Washington D.C. was to improve its aesthetic value?
Story (that you want to highlight)
The most important "Story" in all of my books is that if you set out the to tell the truth and expose this mob they will, using our tax dollars and all of their associated factions come after that one person and destroy him, her, or them, either financially or to have them killed and their family if necessary or if its just easier to get the group (family) together. It matters who or what you are, money is no object as they have our taxpayers funds to destroy us, the honest and legitimate American public. Look at the back cover, some of these are/were families. With myself and CHris Poindexter, the objective was to financially ruin you. (Chapter II, The Breaking Game). Notice how, even with volumes of documents "The Attorney General of the United States is called to action, (Chapter III) did nothing more than wait for six months and then send a form letter stating, "If you feel you still have a valid complaint, contact your local FBI." Odd, as there were local FBI agents that were and are complicit in murder and extortion and pointed out in the documentation sent to him!
About the Author
Lee McGarr is a retired pilot with Degrees in Electrical Engineering and Biology
Purchase Links